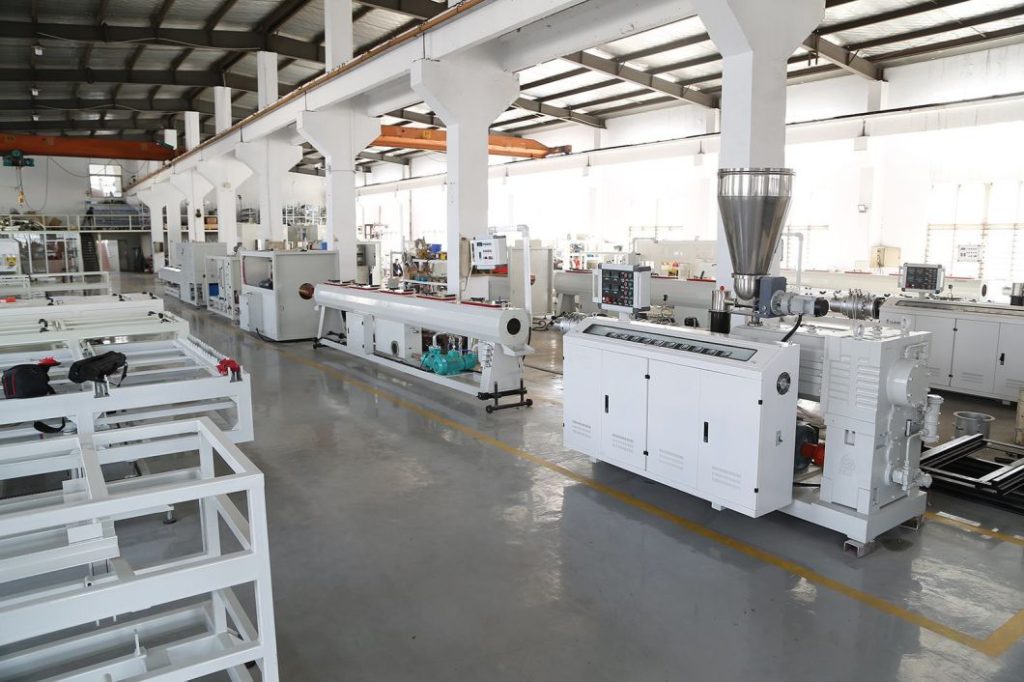 Plastic pipe extrusion line and PVC pipe production line is a special equipment for extruding plastic pipe pipe line, which consists of two cylindrical bodies with multiple extrusion ports. The extrusion port is driven by a motor, and the plastic is evenly extruded to the outer cylinder of the machine head through the rotation of the screw. The plastic is plasticized under the heating and cooling of the outer barrel of the die, and is pressed into the inner barrel of the die. Finally, the plastic is extruded out of the pipe line under the cooling and shaping of the inner barrel of the machine head. This extruder has the advantages of high efficiency, high precision, low noise, etc., and can meet the processing requirements of various plastic pipe lines.
No.

Machine Name

Quantity

1

DTC series screw feeder

1 set

2

conical twin screw PVC pipe extruder

1 set

3

PVC pipe extrusion die

1 set

4

Vacuum calibration tank

1 set

5

PVC pipe extrusion haul-off machine

1 set

6

PVC pipe cutter

1 set

7

Stacker

1 set

Optional Auxiliary machines

1

High speed mixing machine

1 set

2

Crushing machine

1 set

3

Milling machine

1 set
Pls, refer to the specific parameters in the table below.
PVC PIPE EXTRUSION LINE

MODEL NO.

KPM63

KPM160

KPM250

KPM315

KPM450

KPM630

KPM800

production range (mm)

16-63

20-160

75-250

110-315

110-450

315-630

400-800

extruding capacity (kgs/h)

120-220

150-250

200-330

280-50

400-500

600-700

800-1000

screw diameter (mm)

65/132

65/132

80/156

80/156

92/188

92/188

110/220

driving motor AC+VF

30 kW

37 kW

55 kW

110 kW

110 kW

132 kW

172 kW

heater capacity

18.5kw

20kw

40kw

49kw

60kw

60kw

84kw

temperature control (points)

4

5

5

7

7

8

7

cooling system

vacuum pump 4-7.5kw / water cooling system / stainless steel

haul-off unit

2 tracks

4 tracks

6 tracks

8 tracks

driving motor AC+VF

3kw

3kw

4kw

4kw

cutting unit

common cutting

planetary cutting

driving motor

1.5kw

4kw

4kw

5kw

stacking unit

air cylinder system

weight (tons)

7-8

7-8

9-10

10-11

12-14

14-16

20-22

used floor space l*w*h (m)

25*2.6*3.0

28*3.0*3.2

36*3.5*3.2

40*3.5*3.2

42*3.5*3.2

45*3.5*3.5

60*4.0*3.5